I'd like to start a new meme…Whodunnit? Wednesday.  Any interested mystery readers just grab the image and  comment with a link to your mystery themed post.
My mystery reads today are a mixture:  cozy, chick lit suspense, and police procedural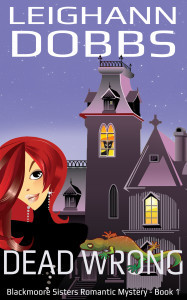 Killer Crullers is a cozy mystery that is book 6 in the Donut Shop Mysteries by Jessica Beck.  I have read all the previous books in this series and enjoyed them and this one was no exception.  Suzanne investigates the death of a man who had threatened her and Gabby's stores.  Besides the murder, Suzanne is also dealing with a possible competitor for her boyfriend Jake's attentions and a possible wedding in her mom's future.  All the stories come together in a satisfying conclusion.  A good read for cozy mystery fans!
Dead Wrong was a freebie Kindle download that has been sitting on my Kindle for a while.  It seemed very short, not sure of the pages but it was a super fast read.  The story centers around a set of sisters who run a few "new agey" style businesses – a natural remedies shop, a yoga studio, and a crystal/jewelry shop.  The sisters live together in the family home and are barely scraping by when one of them is accused of murder.  They band together to prove Morgan's innocence by finding the real killer.  There is a romantic lead in the form of a new police officer who helps the sisters solve their case, while romancing Fiona.  This read with more of a chick lit feel than a mystery, perhaps chick lit suspense?  
Dead Before Morning is the first in the Rafferty and Llewellyn British Mysteries by Geraldine Evans, a police procedural featuring a pair of very different detectives.  Rafferty is a little rough around the edges, a widower with no children but a large extended family, who apparently dabble on the wrong side of the law.  Llewellyn is an intellectual man, with an aversion to "messiness" in every form.  They work together to solve a case centering around a local psychiatric facility and its founder, drug addicts, and prostitutes.  There are some interesting characters/suspects to sort through and a little to neatly tied up conclusion. The partnership works but the writing needs to be tightend up some.  This was definitely on the lighter side of police procedural even though the subjects were dark.  I'll try another in the series, as I have it waiting on my Kindle.
So, how were your whodunnits this week?