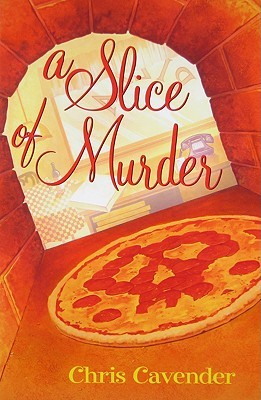 I have to admit I have avoided this series for a long time because it seemed, well, just a little hokey.  I mean really a pizza themed cozy mystery?  However, I have been enjoying the Donut Shop series by Jessica Beck and discovered that Chris Cavender and Jessica Beck are both pennames for Tim Myers, so I decided to try it.
This is this first in the series.  The setting is a pizza parlour run by a widow and her sister in a small town.  There is some discussion of pizza's and pizza making but it does not overwhelm the mystery that develops.  Eleanor is delivering a pizza and finds the homeowner stabbed to death.  The police suspect her as the person who discovered the body and had a brief history with the victim.  Eleanor and her sister investigate to clear her of the crime.  The police "investigation" is a little light in reality and any technical aspects, however this is not a police procedural.  I did like that for once in a cozy the protagonist takes a lawyer with her to her questioning.  That is a step anyone should do, but seldom occurs in cozy mysteries.
There are a few red herrings and suspicous characters hanging about, but my gut instinct was right so I guessed the killer relatively early on.  I still enjoyed the book and the reveal was a confirmation of what I thought.  Likeable protagonist, hints at possible romance, and decent plot.  Overall a good start for a cozy mystery series.