Started the readathon this morning.  So far I've managed to read:  Edited to include reviews at the end of the readathon
The Driver's Seat by Muriel Sparks 
  I loved The Prime of Miss Jean Brodie and so I picked this one up.  This follows a woman on a mission, a self-destructive mission.  She begins the book preparing for her vacation and right a way behaves oddly, drawing attention to herself one minute, behaving outrageously, and being offended by the attention another. She tells anyone that will listen that she is looking for her boyfriend, but it is obvious she doesn't have one.  The sense of tension with sinister undercurrents builds to the ending, making it a compelling read.  By the end of the book, you feel sorry for anyone who comes in contact with her on this journey.  This was a novella, so a quick and fast paced read.  I enjoyed it but not as much as The Prime of Miss Jean Brodie.
Daisy Miller by Henry James  
 I loved this book!  In this we meet, Daisy Miller, an American girl, obviously of the "new" money variety and Winterbourne, also an American but basically an expat, who lived primarily in Geneva and is from "old" money.  Daisy's character represents America, brash, bold, vital, sometimes impertinent in her youth while Winterbourne represent European sensibilities and is sedate, established, concerned with propriety and appearance.  We follow Daisy and Winterbourne as they meet in Vevey and then again in Rome.  There are hints at what will be the downfall of Daisy and plays on the social mores of the time, the gossip, the preoccupation and hyper focus on reputation above all else.  While Daisy is perceived as a wanton woman, completely out of control, she is in fact the total opposite, naive and innocent.  Winterbourne turns from her because of perception, not reality and remains stuck in his stiff, buttoned up life.
Archie vs. Sharknado by Anthony C. Ferrante 
I am enjoying many of the new Archie Comics be released now, mainly for the nostalgia factor but also due to the quite clever writing and updating of the familiar characters.  The extreme popularity of the Sharknado movies with all their B movie appeal is carried over here  with the addition of the Archie cast of characters.  I did not enjoy this is as much as I am liking the Undead Archie series, but it was still good.  My issue is that it felt like a rushed storyline.  It would have been better to have spread it over three or four issues.
The Chef at War by Alexis Soyer  
 114 pages.  This is part of the Penguin Books Great Food Series, that I have been working my way through.  Alexis Soyer has been named the first Celebrity Chef.  Indeed, reading biographical information about him, seems to indicate that he was more interested in being well known and well respected upon royalty and the important people in society than in making money.  In this book, Mr. Soyer talks about his experiences in the Crimean War.  He volunteered to work in the hosiptals and soldier's camps to improve their diet and thus their overall health and recovery. He discusses meeting and working with Ms. Nightingale at this time.  The book includes recipes and descriptions and pictures of his camp stove, an indoor, outdoor fuel efficient stove he designed, which he did not patent because he did not want people to think he was making money off of his work in the war. Really interesting and lead me to read a great deal more biographical information on this chef.  Great read for anyone interested in food history.
On Chesil Beach by Ian McEwan  
 203 pages.  I have just recently read Atonement, which I enjoyed and so I picked up this novella for the readathon.  On Chesil Beach highlights how one decision, words spoken in haste, and especially from youth and inexperience can have lasting effects that ripple through life.  We meet a young couple on the evening of their wedding eating dinner in their honeymoon suite on Chesil Beach.  Their is an anticipation for what is to come and the reader soon realizes that while Edward is eagerly anticipating having sex with FLorence, she is filled with dread and actually disgust.  Couple those circumstances with inexperience and things cannot go well, but it is not the act that destroys their momentary marriage, but the words spoken afterwards.  A melancholy book focused on regret and the power of words. A must read for Ian McEwan fans.
The Sailor Who Fell from Grace with the Sea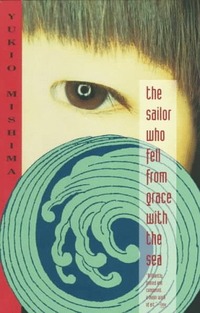 144 pages.  Ronnie Reads and Reviews recommended this to me and gave me her copy, I now know she had an ulterior motive, she needed to speak/rant with someone about this book.  The only things I knew about it was that they made it into a movie with Kris Kristofferson that I was not allowed to watch as a child and that the author committed ritual suicide.  So anyway…
Beautifully written text with characters that are just absolutely heartbreaking.  The story surrounds a young boy, Noboru, his mother, who is a widow, and the sailor, Ryujii, she begins to date.  On the periphery, but driving the action are the Chief and the rest of the gang the Noboru.  There is one scene of animal cruelty, in which the boys, as a gang under the direction of the Chief, torture a kitten to death.  It is important to note that this scene is not gratuitous and it indeed forshadows the ending of the novella. In fact, everything in the book is necessary and builds a sense of tension and foreboding. The themes include love, glory, adulthood, and making choices.  In the end, it is horribly, hauntingly sad.  I know that this will not leave my mind for a while.
We Have Always Lived in the Castle by Shirley Jackson 
  138 pages.  I have read The Lottery, countless times and even saw the old black and white film of it in school at least twice, so I decided to read something else by Shirley Jackson.  We Have Always Lived in The Castle starts out introducing us to Constance, Merricat, and Uncle Julian, all that is left of the Blackwood famly, the rest of the members being murdered by arsenic poisoning.  Although Constance has been acquitted, the family is ostracized by the townsfolk and leads an isolated existence of the outskirts of town.  The entire novella leaves you guessing and builds a sense of doom for what will happen or what will be revealed next.  This is like The Lottery in that is ostensibly a "normal" town, yet the further you get into the story the more twisted and bizarre it becomes.  Excellent read.
Resurrection by Zed Amadeo 
I ordered this at the last minute and found the plot ideas and the characters quite interesting.  There is a lot going on for such a short book, under 100 pages, and this makes the pacing feel a little frenetic.  The plot points could have easily been fuel for a 300 page book with good pacing and a longer book would have allowed for more character development. Overall, an interesting read and I look forward to seeing how the storyline develops in later books.
I'm just going to keep editing this post and adding to it as the Readathon continues.