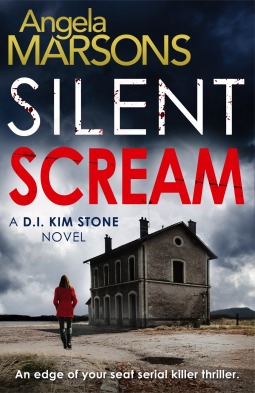 Three more mystery reads.  Starting off with Cruel as the Grave, which I read in one sitting when I woke up too early yesterday morning.  Excellent read.  I really enjoyed it and loved the characters and the mystery.  The plot is very reminiscent of the English Country House type of mystery a la Agatha Christie.  The characters are fully developed and engaging.  I would highly recommend this to mystery fans of all types,It is not strictly for cozy fans.  There is no gore or graphic violence to offend traditional cozy fans, but it would appeal to fans of other mysteries as well.  Currently it is selling for only $3.99 on Amazon – Kindle edition and it is well worth it.
Silent Scream is this month's read at the Kindle English Mystery Book Club.  The mystery surrounds a child buried at the site of an old state home/orphanage many years previous to the current action.  One by one the people involved or who tacitly ignored the crime meet their ends. The case lands in the hands of D.I. Kim Stone, who is either a particularly good fit for this crime or a particularly bad one depending upon your point of view.  D.I. Kim Stone has her own history with state homes and brings this personal history into her handling of the case investigation.  There is some well done foreshadowing of the villain and the ending has an unexpected turn to it. There are also well written supporting characters in the book.  I really enjoyed this one and would recommend it for mystery fans.  The protagonist did remind me in some ways of Maureen O'Donnell from the Garnethill series albeit a higher functioning version.
Geared for the Grave is by Duffy Brown the author of the Consignment Shop Mystery series that I really enjoy.  I will admit that I was not that interested in this series even though I like the author because bicycles aren't really my thing.  I did pick it up though but perhaps my view is biased due to the theme of the book.  I couldn't really get into this one.  It felt really rushed, so much so that I didn't really connect with the characters.  On the plus side, there was a lot of humor.  In fact it reads more like a comedic novel than a mystery due to the pacing.  The setting is charming and there are some interesting "zany" character types.  On the whole, it just wasn't really my kind of book.