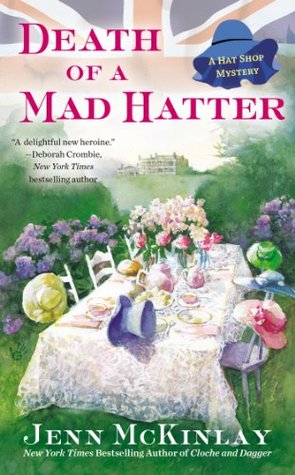 Haven't had much of chance to read lately.  Back to work after a long recovery from ankle surgery and still in physical therapy, so by the time I get home and go to PT or exercise and take care of everything else I'm exhausted.  Still, I did squeeze in these four so far and it's getting better so there should be more to come!
Murder with a Twist is the second in the A Mack's Bar Mystery series.  The protagonist, Mackenzie "Mack" Dalton has a medical condition known as synesthia (a real medical condition, not scifi) that causes her senses to be cross-wired.  For instance, she might taste or see a smell.  She can also sense subtle changes in temperature, for instance the refrigerator was opened or closed before she came into the room.  The condition is fascinating and this outing in the series spends a lot of time on it because her boyfriend, Duncan, is convinced she can be a mighty crime fighting tool, observing things at crime scenes that others would not.
The story mainly follows Mack and Duncan and her "training" to help him, some of it on-the-job.  The cases involve a suspicious suicide first and then a missing child.  This book doesn't really follow the traditional cozy mystery plot as such although there are some red herrings.  It is more an exploration of using her "talent" and then some traditional clue uncovering.   There is a lot to like here, from the interesting protagonist, to the collection of regular patrons at her bar, and the writing and mystery itself.  I did enjoy the book quite a bit.
There is a bit of cliffhanger type ending for one of the character's storylines, not the mysteries, they are resolved.  My only critique would be the storyline that the cliffhanger involves so I can't really discuss it, but that little bit didn't really work for me.  Overall, a good read and a break from a traditional cozy.
Fatally Frosted by Jessica Beck is another book in the Donut Shop series that I can't even believe I am reading because I really do not like donuts 🙂 but the series is great.  Maybe that actually says how good it is, you don't even have to enjoy the theme to read it.
In this outing in the series, Suzanne is cooking donuts at one of the houses being exhibited for a home tour and of course a dead body, of the local busybody, turns up right where Suzanne is cooking.  The murder weapon appears to be one of Suzanne's donuts which immediately puts her on the police radar.  Desperate to clear her name and none to sure that the police will do that, Suzanne elicits the help of her sidekicks, Grace and George to investigate.
Grace is a good character but George really shines as the sidekick The plot line sends Suzanne off investigating all kinds of angles and secrets.  Her boyfriend, Jake, makes some appearances, more to chastise her for investigating than to be helpful.  In the end, nothing was really as it seemed, about the victim, or  the killer.  The last chapter in the book is quite exciting when Suzanne finds herself fighting for her life.
Fun series with a strong independent female protagonist and a sidekick that stands well on his own.
Death of a Mad Hatter is the second in the Hat Shop Mystery series from Jenn McKinlay.  I love the setting of this series, an inherited hat shop in London.  I found the mystery interesting and most of the suspect characters were well drawn.  Scarlett is drawn into the mystery when it appears on of the hat shop's hats may have been tainted and killed the heir to wealthy estate.  Scarlett wants to clear her name and the reputation of the shop.
Harrison, their business manager, is dragged along for the ride and more information is revealed about him in this book. Scarlett does do a significant amount of investigation, which is always nice to see. She doesn't just stumble on clues, she actively investigates.  The mystery comes to a neatly tied up resolution, although slightly sad.  Enjoyable second book in this series.
Death by the Dozen, also by Jenn McKinlay was very good.  I have been trying to read my way through this series.  about a cupcake bakery.  In this book, number three in the series, the protagonists, Melanie and Angie are involved in a reality TV style cooking competition.  This was really a fun read in the series and the plot line had a very modern feel, as Food Network is constantly hosting these type of shows.
One of the judges, who happens to also have been Melanie's mentor, is killed at the show and it seems like it is being written off as suicide.  Melanie can't believe it and begins to investigate on her own.  The pace of the book is very good, giving you the feel of the frantic nature of the action.  Melanie and Angie are juggling the shop, their personal lives, the competition and now the murder investigation.  A new character, Oz, is introduced and I just loved him and hope he continues in the series.
The method of murder is really interesting and what actually happened, how Vic ended up in the freezer, was very original and well done. This is one of my favorite cozy mystery series.  The writing is well done, the mysteries are well plotted and the characters are fully fleshed out.  Great cozy in a great series.