I dropped my daughter off at college in Hattiesburg, MS and through the traveling and nights in hotels I managed to finish quite a few cozies, including these: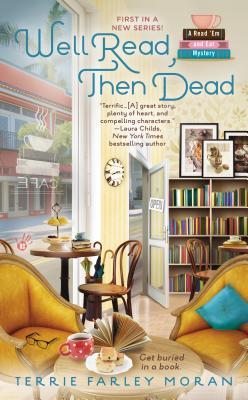 Murder in the Mystery Suite is written by Ellery Adams, who also writes the Books by Bay Mysteries.  This was a interesting twist on a cozy mystery and I don't really know how much to say without giving away anything.  Well developed protagonist, fun concept, a book reading retreat, and well written just as the other books by this author.   If you have ever seen and enjoyed the movie The Librarian:  Quest for the Spear,  there is element here like that.   I will be interested to see how far this veers from cozy mystery and into action adventure.
Well Read, Then Dead by Terrie Farley Moran is another series set in Florida with all the colorful Keys type characters that go with that trope.  The protagonist(s) own a bookstore cafe and become embroiled in a murder when one of their regulars dies under suspicious circumstances.  Secrets are revealed about the victim and the other characters.  I enjoyed reading this and look forward to seeing more in this series.
Murder with Ganache by Lucy Burdette is a Key West Food Critic Mystery.  I do really like the series with the protagonist being a food critic and living in Key West.  The Key West setting is well done and quite interesting.  Lots of drama occurring surrounding an on again- off again wedding, as well as the murder and thefts.  I enjoy this series and will certain continue to read it.  Any fans of series set in Florida will appreciate it.
A Cookie Before Dying by Virginia Lowell is A Cookie Cutter Shop Mystery.  The main characters are interesting, the book is well written and the plot is engaging enough to encourage readers to suspend their disbelief that anyone could make a living just selling cookie cutters. This was made a little more believable by an inheritance which will help support the protagonist.  Charming setting and plenty of twists and turns, I certainly was fooled at points in the mystery.  I am enjoying this take on a culinary cozy mystery.  Well done, fun read.